Benefits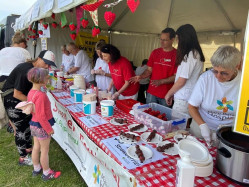 Why Volunteer?
Volunteering can make a difference in your life and your community. It can contribute to your:
Personal wellbeing: Reduce stress; stay active, healthy and happy; and gain meaning and fulfilment.
Social connections: Enjoy new social and cultural interactions, connecting you to others and your local community.
Employment/skills development: Utilise your skills or learn new ones, gain work experience and new opportunities.
Desire to make a difference: Want to make the world a better place? Feel passionate about a particular cause? Through volunteering you can make an active contribution towards the things you care about in your community.
With Volunteering you have a diversity of options
Volunteering can take as little as half an hour per week. Different roles require different amounts of time and this can help you fit volunteering into your busy life. Have a look at the role description or chat to us to find out whether your ideal role will fit into your life.
You can volunteer on weekdays, evenings and weekends and in different locations – it's up to you. Some roles can only be performed at certain times, but we have event roles, short-term/project roles and long-term roles available. There are some roles you can do from home.
You do not need to have specific skills or experience to volunteer. Many roles provide complete training and support, so it is a great chance to try something new.