Community Building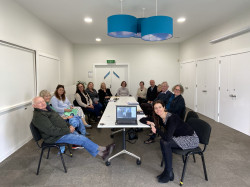 Kāpiti Community Network Meeting
The aim of this monthly meeting is to create networking opportunities, share information and increase collaboration between Kāpiti community organisations. This in turn, can help to facilitate support and a combined response to identified community needs and projects in the area.
Meetings take place on the second Monday of the Month 1:00pm to 2:00pm. The location of these meetings rotates between Paekakariki, Paraparaumu, Waikanae and Ōtaki and is hosted by different community organisations in the area. Alternating the location provides for more community representation throughout the Kāpiti area and allows different community groups to introduce others to their organisation.
If you would like to be added to this Network group please contact us
Capable Sector Project
This project is a collaboration between Volunteer Kāpiti and Kāpiti Impact Trust, supported by the Kāpiti Coast District Council Social Investment fund. The aim of the project is to support the growth of a stronger and more resilient Kāpiti community sector. Through understanding our sector and working together as a community we can build a thriving community sector that addresses local needs and aspirations.
We are currently in phase two of the project that has three key project areas:
• Growing Sector Vision/Identity
• Championing Iwi Wellbeing
• Growing People Skills and Capacity
Volunteer Kāpiti is leading the Growing People Skills and Capacity project area. Under this project (and with the help of additional funders as the project develops) we are working to deliver the following over the next three 3 years:
• Community Knowledge Hub/Kete website (to centralise and make more accessible Kāpiti community capability resources)
• Training including workshops, mentoring, networking events and informal topic meets
• Further Development of the Governance Community Hub (allowing for Kāpiti community governance members to connect and learn from each other)
• Development of a volunteer 'skill bank'.
This work will enable Kāpiti Community Organisations to have increased capability to meet community needs through improved access to skills and resources. Do contact us if you would like to learn more.
Snapshot 1.0
At the start of the Capable Sector project work was undertaken to understand our community sector. This resulted in Snapshot 1.0: a survey of 60 Kāpiti organisations and focus group discussions with 15 organisations. It is our first look at our community's challenges, strengths, and common ground. Snapshot 1.0 is a tool to ignite discussion and further our development and identity as a community sector. We continue to share the results of Snapshot 1.0 through workshops, newsletters and local forums.
Read our full Snapshot Report:
https://www.ourkapiticommunity.org/resources-available